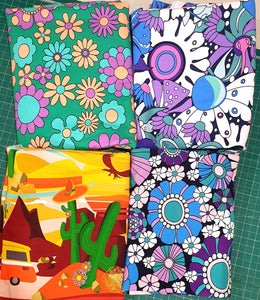 Please note the following:
• Each pack contains a mixture of our designs offered. NOT all designs will be included in the packs.
•Packs are sold as a bundle.
•Each pack contains 4 pieces size of pieces approx 2x 60cm x wof , 2x 90cm x wof, 1x 1m x wof (a total of 4m)
•Fabrics sold in scrap packs MAY have minor flows, printing errors but are still usable.
•Fabrics in the packs are selected at random. Some packs may contain double up of the same design and or pattern repeat size.
These packs contain:
☆ French Terry 280gsm 95%Cotton 5% Spandex approx 150cm width. Pattern repeat size available in 40cm x 40cm.
High quality okeo tex certified inks are used on all of our beautiful high quality textiles.
Fabric Care Instructions:
Cold gentle machine or hand wash individually, use quality laundry liquid/powder. Do not soak, wring, rub, bleach or tumble. Dry clean using Hydrocarbon (perc free)
Please put the quantity amount (packs you require in the quantity box i.e. 1= 1 pack, 2= 2 packs and so on.
Remember, that colours of fabrics may not appear quite as luminescent as they do on a digital screen, however they are really close to it. Reminder, these designs are printed for a limited time only.
Fabric Care Instructions:
Cold gentle machine or hand wash individually, use quality laundry liquid/powder. Do not soak, wring, rub, bleach or tumble. Dry clean using Hydrocarbon (perc free)